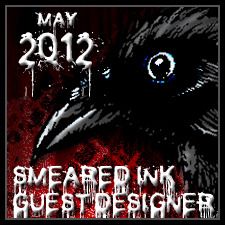 Deze week is er een kleurenchallenge, altijd leuk! En het zijn prachtige kleuren om mee te werken.
This is my 3rd challenge as GDT for

Smeared Ink and Smudgy Antics challenge blog. This week we have a colourchallenge, I just love colourchallenges! And I love working with these colours.
***************************************
Ik heb voor mijn kaart een afbeelding van
Smeared Ink
gebruikt, de Valkyries. De Valkyries zijn volgens de Noorse mythologie vrouwen die op het slagveld bepaalden wie er dood ging en wie niet.
Ik heb de achtergrond gemaakt met distress inkt en diverse maskers en stempels. De lijst is mal van Sizzix en de bloemen zijn gemaakt uit koffiefilterzakjes en een TH mal , gekleurd met distress inkt.
I have used an image by Smeared Ink, the Valkyries. According to Norse mythology the Valkyries were females who decided who would die in battle and who would survive.
I made the BG with distress ink, masks and some stamps. The frame is made with a Sizzix cutting die. The flowers are made with coffeefilters and a TH cutiing die, coloured with distress ink.
have a lovely day
hugs
Miranda