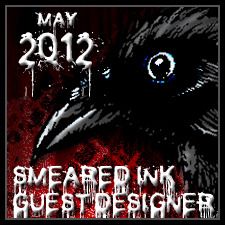 Vandaag mijn 2de creatie als GDT bij Smeared Ink en
Smudgy Antics
, de challenge blog. Het thema is deze week "MASKERADE". Je kunt een masker maken , een maskerafbeelding gebruiken of een maskertechniek gebruiken.
Ik heb gekozen voor het laatste.
Today I have my 2nd creation as a GDT for Smeared Ink and the
Smudgy Antics
challenge blog to share. Our theme this week is "MASQUERADE". You can make a mask, use a maskimage or use the masking technique. I choose the last one.
*****************************************
Ik heb Stitchy Doll 1 van Smeared Ink gebruikt. Een geinig kereltje! Hij zit op de nieuwe TH telefoon, zo leuk die nieuwe mallen van TH. De achtergrond is gemaakt met 3 maal raden.....inderdaad Dylusions inkt. Ik het verder maskers gebruikt van the Crafter's Workshop en van Dyslusions. De bloemen zijn gemaakt van geruite knopen, gekocht op de markt en vilten rondjes. De blaadjes zijn ook gemaakt met een TH mal.
I have used Stitchy Doll 1 by Smeared Ink . isn't he a cute fella! He's sitting on the new TH telephone cutting die, really love the the new dies. The BG is made with ...guess what....yep Dylusions spritz ink. I have used masks by the Crafter's Workshop and Dylusions. The flowers are made with buttons (in a tartanprint), from my local market and some felt. The leaves are made with a TH die as well.
je kunt hier de
Smudgy Antics
challenge vinden, doe gezellig mee!!
you can find the
Smudgy Antics
challenge overhere, hop over and join us!!
enjoy your day
hugs
Miranda