Het is alweer een week geleden dat ik iets heb geplaatst, maar ik heb het heeeeeeeeeel erg druk gehad met mijn werk en met een aantal demo's en workshops en DT projecten die ik moest voorbereiden. Maar vandaag heb ik dan ook 2 projecten om te laten zien.
A week has already passed wothout a new creation, but I have been very busy at work and preparing some demo's, workshops and DT projects. But today I have 2 creations to show you.
*****************************
1. THE STAMPING BOUTIQUE CHALLENGE- MONOCHROMATIC IN BLUE
De challenge bij
the Stamping Boutique
is erg leuk deze keer, alles blauw. Ik vind het altijd erg leuk om in 1 kleur te werken, dus ik had ook geen enkele moeite met deze challenge. En ik wist ook gelijk welke afbeelding ik zou gebruiken, Pearl, een prachtige zeemeermin van the Stamping Boutique.
De achtergrond is gemaakt met Dylusions Ink op aquarelpapier . De afbeelding is ingekleurd met artbars (wateroplosbare waxkrijtjes) van Derwent. De rondjesborder is een nieuwe mal van Tim Holtz en de zeesterren en visjes komen bij Xenos vandaan.
The challenge over at the Stamping Boutique is really cool this time, everything blue. I really love working in just 1 colour, so I had no trouble at all working on this one. And I knew immediately which image I wanted to use for my page, Pearl, a gorgeous mermaid by the Stamping Boutique.
The BG is made with Dylusions Ink on watercolourpaper. The image is coloured with artbars (watersoluble waxcrayons) by Derwent. De circleborder is a new cuttingdie by Tim Holtz. The seastars and fishes were found at Xenos.
*****************************************
2.GUEST DT OVER AT SMEARED AND SMUDGED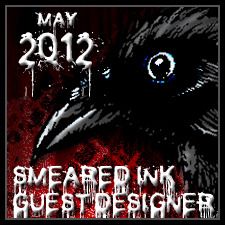 Vorige week vroeg Tori van het
Smeared and Smudged forum
of ik gast DT wilde zijn voor de maand mei. En dat wilde ik natuurlijk wel . Ik mag daarom deze maand de challenge verzinnen en dit is wat ik heb verzonnen: teken of schrijf iets op je creatie! Het mag een tekst zijn of kleine tekeningetjes of zelfs een hele afbeelding, als het maar met de hand is gedaan.
Ik heb ook hier de achtergrond gemaakt met Dylusions Ink op aquarelpapier. De afbeelding is van Stampotique en ook weer ingekleurd met artbars van Derwent. De visjes, het zeewier en de tekst heb getekend met poscapennen.
Last week, Tori of the Smeared and Smudges forum asked me to be May's Guest DT. And off course I wanted to be GDT, I felt honoured when she asked me. And because of this I can host the May GDT challenge and this is what I came up with: doodle or draw something on your creation! It can me either a sentiment or a little doodle or a large image, as long as it is handdrawn/ written.
And again I have made the background with Dylusions Ink on watercolourpaper. The image is by the Stamping Boutique and coloured with artbars (watersoluble waxcrayons) by Derwent. The fishes, weed and sentiment are drawn with my posca pens.
hopelijk zie ik jullie terug bij 1 van de challenges
I hope to see you over at one of the challenges