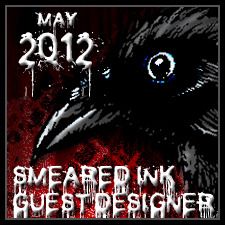 Deze week is er een embellishment challenge, gebruik tenminste 3 of meer versierseltjes!
This is my last challenge as GDT for

Smeared Ink and Smudgy Antics challenge blog. This week we have a embellishment challenge. Use at least 3 or more embellies!
***************************************
Ik heb voor mijn kaart een afbeelding van
Smeared Ink
gebruikt, misk. Een eng maar grappig wezentje.
Ik heb de achtergrond gemaakt met distress inkt en diverse maskers en stempels. Het spinnenweb is een mal van memory box. De spinnen zijn van een TH mal (candlelight fright) voorzien van glossy accents en een wit kruis.
I have used an image by Smeared Ink, Misk. A creepy but adorable little creature.
I made the BG with distress ink, masks and some stamps. The cobwebs are made with a meory box diefolder. The spider is a folder by TH (candlelight fright). have added some glossy accents and a nice white cross as well.
have a lovely day
hugs
Miranda