hallo allemaal, vandaag heb ik een kaartje voor de Tiddely Inks challenge #77 Celebrate.
Ik heb 1 van de nieuwe digi's van Tiddly Inks gebruikt, WREN and FRIENDS. En zijn ze niet ontzettend SNOEZIG!!!!
Hi everyone, today i have a card for the Tiddly Inks challenge #77 Celebrate. I have used one of the new Tiddly Inks digi's, WREN and FRIENDS. Isn't she ADORABLE!!!!!!
Ik heb een "happy birthday" kaart gemaakt voor deze challeng. Het papier is van Maja design en ik heb alle randjes bewerkt met de distresser en inkt. Het lint komt van de markt en de bloempjes zijn gemaakt met een EK succes pons en een Joy craft pons. De blaadjes zijn gemaakt met een Magnolia Doohickey. ik heb alles aan elkaar geniet om een beejte een grungy look te maken.
I have made a "happy birthday" card for this challenge. The paper is by Maja design and all the edges are distressed and inked. the ribbon is form my local market and the flowers are made with a EK succes punch and a Joy craft punch. The leaves are a Magnolia Doohickey. I used staples to put things together and to get a grungy look.
de tekst op de tags
the sentiments on the tags
Je kunt de Tiddly Inks challenge
hier
vinden!
you can find the Tiddly Inks challenge
here
!
********************************************
13 Januari heeft Tiddly inks een leuke bloghop met veel prijzen,
kijk voor meer informatie op Christy's blog
hier
January 13th Tiddly Inks has a bloghop with awesome prizes,
click on Christy's blog here for more information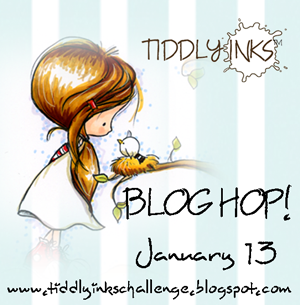 have a fairy lovely day
hugs
Miranda