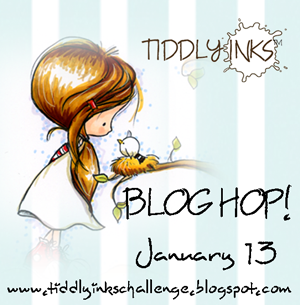 Dit weekend is er fantastisch leuke BLOGHOP bij
Tiddly Inks
. Je kunt met deze bloghop meedoen door ook een Tiddly Ink creatie te maken of alleen met de hop mee te doen. Er zijn in ieder geval veel leuke prijzen te winnen. Kijk voor meer informatie op de blog van
Christy
voor alle details.
There is a fabulous bloghop over at Tiddly Inks this weekend. You can participate in the bloghop by making a Tiddly Inks creation or just hop along. They are many gorgeous prizes to win . You will find all the details on Christy's blog.
*********************************************
Ik heb voor deze bloghop een artjournalpagina gemaakt met de Tiddly Inks afbeelding "flower girl".
De achtergrond is gemaakt met Neocolor Crayons en stempels van TH, Unity en Hero Arts.
I have made an artjournalpage for this bloghop and I have used the Tiddly Inks image "flower girl". The BG is made with Neocolor Crayons and stamps by TH, Unity and Hero Arts.
doe mee aan de
HOP
en heb veel plezier
join the hop and have a lot of fun