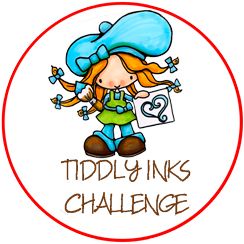 Mijn Tiddly Inks kaart van vorige week stond op Fabulous Friday in de spotlight. GAAF!!!
My Tiddly Inks card from last week was featured on Fabulous Friday. Isn't that COOL!!!
************************************************
Jongens blijven jongens! Dat is de nieuwe challenge bij Tiddly Inks. Leuk, want ik maak eigenlijk weinig mannenkaarten, gelukkig had ik wel een paar jongens van Tiddly Inks liggen om te gebruiken. Het is wel een grote jongen geworden, maar het is zoals de challenge zegt, jongens blijven jongens, hoe oud ze ook zijn.
Boys will be boys! That's Tiddly Inks' new challenge. Great, because for some odd reason I hardly ever make cards for men. Lucky me I had some Tiddly Inks guys "lying around". This card is for a big boy, but it's like the challenge already said, boys will beboys, no matter their age.
De achtergrond is gemaakt met colorwash en glimmermist. Daarna het papier bestempeld met de tekst van de Papillion stempelset van Tim Holtz. De randjes met de distressingtool en inkt bewerkt. Daarna stukjes papier met gesso ingesmeerd en de randjes beïnkt. Het hoekje en de tag zijn op dezelfde wijze gemaakt. De tekst is uit een Hot Pick set van Paper Artsy. De bloem is een snijmal van Cheery Lynn.
I made the background with colorwash and glimmermist. After drying I used the textstamp from Tim Holtz, Papillion set. The edges of the card are distressed with the distresstool and ink. Than I added some gesso-ed and inked pieces of paper. The corner and tag are made in the same way. The sentiment is from a Hot Pick set by Paper Artsy. The flower is made with a Cheery Lynn die.
Je kunt
hier
de Tiddly Inks challenge vinden.
You can find the Tiddly Inks challenge here.
have a fairy lovely day
hugs
Miranda