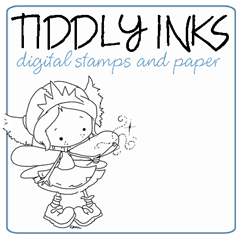 Deze week heeft Tiddly Inks een hele leuke challenge, nl het maken van een art jounalpagina. Supergaaf toch!! Het maken van art journalpagina's is heel leuk en eigenlijk is alles toegestaan, lekker kliederen met inkt, verf, stempels en papier. HEEEEEEEEEEERLIJK!!
They have an awesome challenge over at Tiddly Inks this week, make an art journalpage. Isn't that fab? Making an art journalpage is great to do and as a matter of fact anything is allowed. Just play around with ink, paint, stamps and paper, LOOOOOOOOOOOOOOVE IT!!!!
Voor deze pagina heb ik mijn favoriete kleuren gebruikt, namelijk paars, aubergine, turquoise en zeegroen/petrol. Daarna heb ik er swirls van viva dekor op gestempeld. De lijst achter Wizardette is een stempel van Hero Arts die ik met embossinginkt heb gestempeld en vervolgens met Pearl Ex goud heb gemaakt. Ik heb ook nog wat Pearl Ex over de swirls gesmeerd. Met een witte gelpen een paar highlights in de swirls aangebracht.
De lettertjes zijn gesneden met een Tim Holtz snijmal.
Wizardette is een van de vele leuke digi's van
Tiddly Inks
en ik heb haar ingekleurd met kleurpotlood.
I have used my favorite colours for this page, purple, eggplant, turqouise and teal. After that I stamped some swirls on the page (by viva decor). The frame behind Wizardette is a stamp by Hero Arts. I stamped it with embossing ink and used some Pearl Ex to get it all golden. I also used some Pearl Ex for the swirls as well. I also made some highlites with a white gelpen. The letters are made with a Tim Holtz die.
Wizardette is one of the many gorgeous images by Tiddly Inks en I coloured her with my colourpencils.
Met mijn pagina doe ik mee aan de Tiddly Inks challenge
hier
.
I enter my page into the Tiddly Inks challenge over here.
have a fairy nice day
hugs
Miranda