Welkom terug bij een nieuwe challenge van DYSU!! Deze week is ons thema DANK JE WEL.
Welcome back for another challenge over at DYSU!! This week our theme is THANK YOU.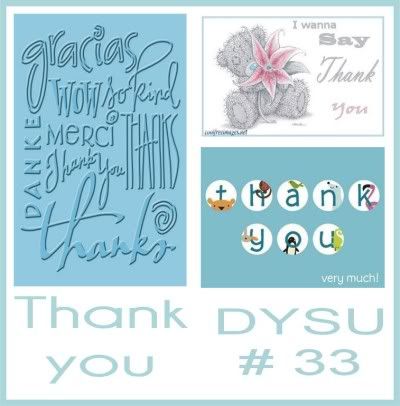 Het was voor mij deze week ook een challenge! Het plaatje van Pairie Fairy was leuk om mee te kleuren, het papier van Maja Design is ook leuk. En toch ging het niet lekker. Ik blijf wat zien aan de kaart. De grote herfstblaadjes zijn Tim Holtz en de kleine bloemjes zijn gemaakt met EK succes ponzen.
This week it has been a real challenge for me too! The image by Pairy Fairy is great to colour, the paper by Maja Design is gorgeous too. And still it didn't work out for me this time, don't know why. The larger leaves are made with a Tim Holtz die and the little flowers are made with Ek succes punches.
Je kunt
hier
je DANK JE WEL kaart uploaden in de challenge.
You can enter your THANK YOU card here into our challenge.
Have a fairy nice day!
hugs
Miranda