Ik heb genoten van alle inzendingen vorige week, want er zaten echte kunststukjes tussen. Prachtig zwart/wit met een klein beetje kleur. Maar het is inmiddels weer donderdag en dat betekent een nieuwe challenge bij DYSU! Deze week is ons thema "EMBOSSEN!".
Your entries for our last challenge were GORGEOUS! I enjoyed them all. But it's Thursday again and that means a new challenge. This week we want you to

EMBOSS IT

!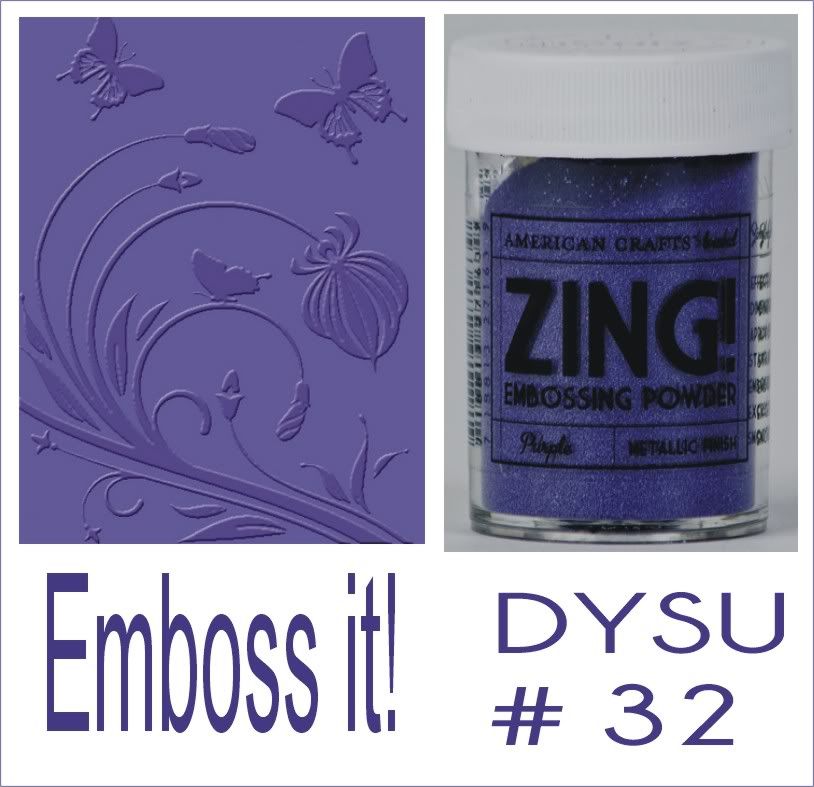 Ik heb de stempel "Monkey Business" van Digi's with Attitude gebruikt voor mijn kaart. Een grappig stempeltje met aapjes. Het papier is van een nieuwe Basic grey Line met dierenprints. Helemaal geweldig. Ik heb het achtergrondpapier een embosspatroon gegeven met een embossingmal, maar helaas is dit niet goed zichtbaar op de kaart. De tekst heb ik met embossingpoeder gemaakt.
I have used a lovely monkey digi by digi's with attitude called "Monkey Bussiness". A cute image with monkey's. The DP is a new line by Basic Grey with animal patterns, totally fab paper! I embossed the bgp in a embossingfolder but infortunately it isn't showing up well on the photograph. For the sentiment I used embossingpowder.
Doe hier mee aan de onze challenge deze
week
.
You can upload your card into the challenge here.
have a fairy nice day
hugs
Miranda